Time to Love Others.
Jesus summed up God's law quite simply:  "…'Love the Lord your God with all your heart and with all your soul and with all your mind a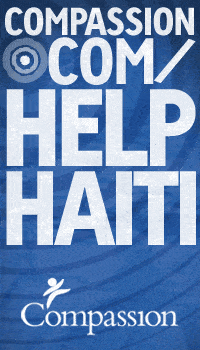 nd with all your strength.'  The second is this: 'Love your neighbor as yourself.'There is no commandment greater than these."  (Mark 12:30-31) By now we've all heard about the awful earthquake in Haiti.  There's so much need there its indescribable.  I won't try.  We've been blessed tremendously and can use this time of trouble to love our neighbor.  Its not only our duty, its our privilege.
Here's the deal.
In an effort to help Haiti, we're offering a new sign design (inspired by Julie at Joy's Hope) and will be donating $10 of the purchase of this sign to Compassion International Haiti Disaster Relief.  Check out what is going on in Haiti via Compassion's blog.  To give directly to Compassion's Haiti relief, go here.
We'll periodically update the blog with the progress from this little fundraiser, so check back often.
The sign we're offering says "Love God.  Love Others." as a reminder of Jesus' command.  Its a good reminder for all of us each day.  The sign measures 3.5" x 20".  The sign edges are routed and distressed with a painted background and vinyl lettering.  It will be glazed and sealed with a high-quality sealer and come ready to hang.  You choose your background color and text color from the options below.  The sample sign shown below has a marine blue background with cream colored text.  Purchase price is $20 plus $6.75 shipping, and $10 will be donated to Compassion's disaster relief fund for Haiti.
Background Colors

Text Colors

black

brown (khaki)
antique white
robin's egg blue
marine blue
red
sage green
Choose any color for lettering from our color chart.
Thank you for helping with Haiti's relief efforts.  We also have this sign listed in our Etsy shop.  If you'd prefer, check it out there.  We anticipate having signs ready in approximately one week from ordering.  We look forward to hearing from you.
Update:  Thanks to all of you - we were able to contribute $300 to Compassion's relief!  Thank you.