LN Summer Lace Tour
Sewing has become such great therapy and a joy for me...in the beginning I sewed mainly for myself...but now I find myself picking up more and more projects for my girls as well - I love seeing their eyes light up when I make something they love!
One of my goals in sewing for them is to increase my skill set, so that as they get older, and more concerned with trends and what their peers are wearing, that I can make garments that fit in, and don't look homemade. I want them to always feel comfortable and beautiful in their own skin! There is lace everywhere in RTW world right now, so I thought it would be lots of fun to add some lace to projects for them this summer!
First up, we chose the Love Notions Wrigley Raglan - I love that it has so many options and a great size range (2T-16 plus)! My daughter was quick to pick out this teal and black lace from my stash...it is so her! Raglans are a great place to start sewing in general...no set-in sleeves to deal with, just 4 easy seams and voila, sleeves! If you haven't sewn a lot of lace (this was my 2nd ever project) - I think a raglan is a great place to start! I simply cut the sleeve piece out of lace, and treated it just like I would any other sleeve piece. I did choose to not hem the sleeve, as I didn't want to see the hem at the bottom of the sleeve (doubling up lace makes it look more opaque). However I didn't worry about that at the neckline...I surged on my neckband and then topstitched with my cover-stitch. It's maybe a little darker/more noticeable at the top edge of the sleeve, but in my mind it blends into the neckband and I didn't find it concerning. I *did* take the time to change out my serger thread to black...something I almost never do!
This particular lace does have variation in the knit density...some areas are a really thin mesh, and some are thicker. I got a little careless inserting my neckband, and had to do a little seam ripping and it was almost catastrophic to one sleeve...so if your lace also has thin mesh areas...pay attention so you only have to sew once! ;)
She loves her new top, and I love that it will work just fine this fall and meet her school dress code! Sewing the lace sleeve was hardly different from sewing a regular raglan sleeve - that's a win!
I had a little more sewing time, so I decided that it was only fair that Miss 2 get a new top too! ;) I recently sewed up the nightgown from the Love Notions Luna Loungewear Collection for her, so thought it would be fun to test drive it as a cami too! Once again, a pattern with so many options! Cami, Nighty, Bralette (that can also be a shelf bra in the cami and nighty for girls sizes 8 and up), shorts, and capris - so many great possibilities, and again the size range is great! Sizes 2T to 16plus!
As I knew I was using the lace for part of the bodice, and didn't want the top to be see-through, I started by cutting a front and back in a white jersey and then cut out a second front in my lace fabric. You could get a totally different look by using a completely different fabric as the backing, but I wanted the white to just blend in. Then I pinned and clipped my 2 front layers together and ran a quick basting stitch around the outer edge inside the seam allowance. I also used a contrasting thread in case I had any uh-ohs...I knew that would be easier to seam rip! Thankfully, I didn't have much shifting, and no seam ripping was required! If your fabrics are shifty, you could also use a basting spray to help hold everything in place while basting them together. Once this step was complete, I followed the pattern directions the rest of the way with no modifications...easy peasy!
When I showed it to her, my girlie just grinned and was so excited! The Luna is a really fast sew - she couldn't believe how quickly it was complete after she picked out her lace! Happy, happy dance!
She thinks taking pictures is the most fun these days, so she was only too happy to model for me. Oh how I love seeing her little personality bloom! I used some black dbp from my stash for the binding...I thought it would frame the lace nicely, and show up less mess when uh-ohs inevitably occur.
How about you - is lace part of your sewing repertoire? For more great lace inspiration, make sure to check out the rest of the Summer Lace Tour!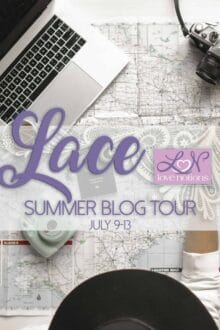 Monday: Sewing Curves SewSophieLynn Kainara Stitches Tuesday: doodlenumber5 My Heart Will Sew On Third Shift Creations Wednesday: Princesse et tresors Phat Quarters Thursday: All Things Katy! Back40life,Sprouting JubeJube Friday: Sew Like a Sloth Very Blissful Seamly Behaviour
I received these patterns as part of the tour, but all opinions are my own! If you choose to use any of the affiliate links contained in the post, at no cost to you, I get a small % to help fund my love of sewing and fabric. Thank you!